Published:
Nov 25, 2021 13:34 GMT

The pattern of the burial is typical of the high Andean region, which would prove that in the settlement where the mummy was found, one of the most important on the Lima coast, coastal and mountain people coexisted during the late pre-Hispanic period.
A team of archaeologists from the University of San Marcos de Lima found last weekend in the archaeological complex of Cajamarquilla, located east of the capital, a mummy in perfect condition. The remains belong to a male and date from pre-Inca times, the institution details in a statement.
The burial pattern of the mummy, found in a fetal position, with her hands over her face and "covered with ropes", is typical of the high Andean region, which would prove, according to scientists, that in this settlement, one of the most extensive on the coast of Lima, Costeños and serranos would have coincided during the late pre-Hispanic period, thus facilitating commercial exchange between the inhabitants of both areas.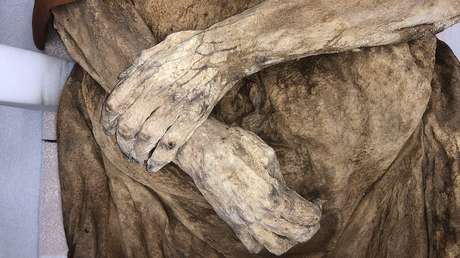 "The significance of this archaeological complex lies in its strategic location, as a control and means of interaction of interregional relations," the statement explains.
The mummy was found inside an underground burial chamber oval shaped during excavations led by Yomira Silvia Huamán Santillán, a graduate in Archeology at the University of San Marcos, and Professor Pieter Van Dalen Luna, with the participation of San Marcos students and other Peruvian educational centers.
An in-depth study of the mummy will contribute to deepen knowledge on the cultural practices developed in late pre-Hispanic periods in Cajamarquilla. The finding, the researchers point out, will allow us to extract more information about "their interactions with other sites in the Rímac valley [uno de los tres valles que atraviesan Lima], productive strategies that he had, as well as the hierarchical situation at the time of the arrival of the Incas and the annexation of this territory to the [imperio] Tawantinsuyo ".