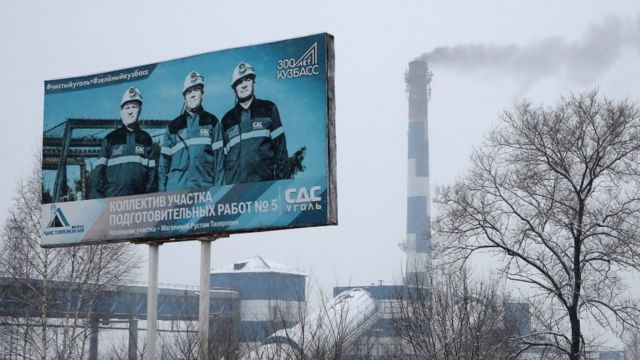 At least 52 people have died in an accident at a Russian coal mine, according to local media.
The incident began when soot accumulated in a Siberian mine ventilation shaft burned on Thursday, filling the site with smoke and killing 11 people.
At nightfall, a rescue operation to reach the dozens of missing miners ended in tragedy, with several rescuers killed by suffocation.
It is the worst mining disaster in Russia in the last ten years.
Late on Thursday, after the rescue mission was suspended, several sources told Russian news agencies that the death toll had risen to 50, including six members of the rescue teams.
"There is no one alive in the mine," an emergency worker told state agency Tass.
Other accidents
Most of the 285 people at the Listvyazhnaya mine in the Kemerovo region, some 3,500 km east of Moscow, escaped after the accident, which occurred at 0835 local time.
Authorities reported that 49 people had been taken to the hospital with injuries. Some of the injured had inhaled toxic smoke and four of them were in critical condition.
Three people, including the mine manager, have been arrested for security breaches, according to Reuters.
This is not the first accident to occur at the mine. According to local press, a methane gas explosion killed 13 people in 2004. Incidents in Russian mines are not unusual.
In 2016 the authorities carried out a safety assessment in 58 coal mines in the country and established that 34% of them were potentially unsafe. The list did not include the Listvyazhnaya mine, according to published articles.
Russian President Vladimir Putin said: "I hope they can save as many as possible" from "this great tragedy."
Now you can receive notifications from BBC News Mundo. Download the new version of our app and activate them so you don't miss out on our best content.